FIA International F3000 - Season Review 2000
Bruno Junqueira came out on top in 2000, but the tense battle between the Brazilian and France's Nicolas Minassian was not decided until the final round at Spa. Junqueira looked set to dominate the season after a hat-trick of early season wins, but a mid-season slump coincided with a strong resurgence by Minassian. Both men, in their third seasons, were equal on points and "countback" finishing positions going into round 9 at the Hungaroring. Junqueira took the decisive advantage on the tight circuit, winning when Minassian could only manage fourth. The title then went down to the wire at the great Spa-Francorchamps, where Minassian's only option was to win. The Super Nova driver pushed hard to a strong third, but it was not enough to win the title, despite Junqueira failing to score points with an engine problem.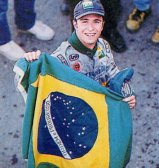 Whoever won out of Junqueira and Minassian, David Sears new that it would be one of his drivers that would take the title - Minassian with Super Nova or Junqueira with Petrobras Junior. The previous year it had been McLaren's junior team that took the title with Nick Heidfeld, and after topping times in pre-season testing their new signing Stephane Sarrazin was considered Junqueira's main rival. The relationship between David Brown's team and the Frenchman disintegrated when results failed to materialize, and Sarrazin was ousted mid-season, leaving the Sears drivers to fight it out for the main prize.
No-one else really had a chance of the championship. Mark Webber, the year's most successful rookie, looked to be a contender with European Arrows early in the year, taking third on his debut at Imola and winning in the rain at Silverstone. His season trailed off however, and his third place in the championship came under threat towards the end of the year. David Saelens, Minassian's team-mate, once again showed speed and promise in his second season, but too many mistakes meant he never reached the top step of the podium. Enrique Bernoldi and the Red Bull Junior squad looked set for a much brighter second year together, but the Brazilian was robbed of two potential victories by bad luck, and had a disappointing second half of the season. One driver to make a real impact was Fernando Alonso, the young Spaniard only turning 19 towards the end of the year. The Astromega driver improved throughout the season, taking a dominant win at Spa to promote him to fourth in the championship. Fifth went to former Formula Palmer Audi champion Justin Wilson, who built on a promising first year, while equal sixth with Saelens was Tomas Enge, the McLaren pilot winning the rain-affected Hockenheim race. Five different winners in ten races showed the season was competitive, but in reality the title battle throughout was between Junqueira and Minassian.
Once again the status of F3000 grew in 2000. Most notably Junqueira and Minassian both found themselves signed by Chip Ganassi Racing in CART by the end of the year, a major deal which showed the high regard F3000 is held in by CART, if not by F1 teams. For a second year, every round supported a Grand Prix. The grids were highly stable, unlike last year. With the field limited by the FIA to 15 teams, some of the smaller squads from last season were forced to leave for pastures new. As a result, there was much greater stability in the driver line-up. Formula One's involvement was also prominent once again. McLaren ran their mySAP.com Team, renamed from West Competition in deference to new sponsors, Prost continued their affiliation with the Gauloises Formula (nee Apomatox) team while Arrows linked up with European Formula to form the Arrows-liveried European Arrows team. Telefonica sponsorship adorned the Astromega Lola of Fernando Alonso, as it did the F1 Minardi the Spaniard tested. Meanwhile D2 and Playlife became the title sponsors of Super Nova, and the Williams-affiliated Petrobras Junior Team and the Red Bull Junior team continued to operate. By the end of the year, another high profile sponsor saw the benefits of F3000, Coca-Cola sponsoring Justin Wilson's Nordic machine from Austria onwards as a foot in the water before a likely move into F1. Year-long coverage of qualifying and races on pan-European channel Eurosport again helped the series to grow, despite lacklustre efforts from the TV directors at some of the circuits.
Greater stability in F3000 saw a fairer season than 1999 where every driver had an equal opportunity to perform. In 1999, the field was so large that it was split into two groups, each having just one session to determine their grid position. This meant that unless teams had a set-up ahead of the session, their drivers would struggle to qualify well, if at all. This year the limited grids meant everyone had the benefit of two 30-minute sessions. However, with no spare car allowed, they were still disadvantaged compared to their F1 counterparts. Making a mistake early in a session and dumping the car in the gravel often meant certain non-qualification.
At the start of the season it looked as though a large proportion of the F1 field would be employed as test drivers in F1. Petrobras Junior's Bruno Junqueira was tester for Williams, and was on standby to make his F1 debut at the Canadian GP when Ralf Schumacher injured his leg at Monaco. Arden's Darren Manning was the test and reserve driver for BAR, while McLaren's Stephane Sarrazin was tester for Prost and was rumoured to fill in for Jean Alesi in Hungary. The Frenchman's McLaren team-mate Tomas Enge signed a testing deal with Jordan, while Fernando Alonso joined 1999 F3000 Italia champ Giorgio Vinella as a test driver at Minardi. Red Bull Junior driver Enrique Bernoldi tested regularly for Sauber and became an outside bet for a race seat in 2001. Two drivers were expected to be F1 test drivers at the start of the season but never completed their deals. WRT's Hidetoshi Mitsusada was announced as Benetton test driver, but after being dropped by Rafanelli's F3000 squad the Japanese's deal was off. Mark Webber, 2000 rookie of the year with European Arrows, was set to be the Arrows test driver but refused to sign a contract giving Tom Walkinshaw an option on his services for 2001. The Aussie subsequently signed as Benetton's test driver in November. Tomas Scheckter also tested for Jaguar as part of his Stewart F3 deal, and secured the test drive for 2001.
But one question that needs answering is whether F3000 is fulfilling its role as an F1 feeder series. Well, yes and no. The trend which began with Jenson Button has spread throughout F1, with F3 stars such as Luciano Burti and Giorgio Pantano either signed or hunted as drivers, in the process bypassing F3000. Even worse, teams are looking to categories such as Formula Renault 2000 (Kimi Raikkonen) and Formula Ford (Anthony Davidson), signing drivers who have yet to prove themselves at a significant level. On the other hand, Webber has been picked up by Benetton, while Fernando Alonso became a target of Ferrari, Prost and Minardi, on merit of his performances rather than budget alone. Bernoldi meanwhile would have been selected by Sauber, had Red Bull had their way. It is clear however that many F3000 drivers view CART as their only real option to progress; Junqueira and Minassian have made the move, where they will be joined by ex-F3000 star Max Wilson. Other drivers such as Jamie Davies and Franck Montagny have also been exploring options on the other side of the Atlantic.
Next year's International F3000 series will see a few changes. At last the series is going truly international, joining the Brazilian Grand Prix weekend at Interlagos in March (with other international races also in the pipeline), while Monza makes a welcome return to the calendar after a long absence. Extending the calendar to twelve rounds brings the series more into line with F1 and CART, while not overstretching the team and driver budgets. Races will be shorter but qualifying has been extended to two 45-minute sessions. All of the teams bar McLaren and WRT will continue, again joined by Italian veterans Durango after their Italian F3000 foray. With a number of the current drivers set to stay, Mark Webber, Darren Manning, Enrique Bernoldi and Justin Wilson could all be amongst the title contenders.
Season review: team-by-team:
mySAP.com Team (McLaren Junior)
David Brown's McLaren squad headed into 2000 confident they had chosen a driver capable of winning the title. After serving its purpose of taking Nick Heidfeld into F1, the team would only continue if they found a top-line driver. In

Stephane Sarrazin (left) they thought they had. In pre-season testing Sarrazin was the man to beat, and it looked like he would be Junqueira's main title rival. Qualifying 18th in the Imola opener, it soon became apparent he would not. It wasn't until the lottery of round 4 at the Nurburgring that he would score points, albeit for a fifth place, benefitting from Andreas Scheld's disqualification. He was sixth at Magny Cours but the team fell out with him, voicing their dissatisfaction in the press, and he was ousted ahead of round 7. His replacement was the young South African Tomas Scheckter, son of 1979 F1 champion Jody. Many felt the move was due to his flagging fortunes with Stewart in British F3, where he was at the time losing touch with Antonio Pizzonia. Scheckter responded by improving his British F3 form at the same time as proving his worth in F3000. His debut at Austria was a write-off, although he did well to qualify 19th in the rain. Before the A1-Ring debut, he had a one-off race with Da Vinci at Monza in Italian F3000, where he stunned everyone by leading before finishing second. In just his second International F3000 race at Hockenheim, he matched that position after a very mature drive in the rain, McLaren seizing 1-2 after perfect timing in qualifying. The remaining two races were less successful, including a crash on a sighting lap at Spa, but Scheckter is definitely a talent for the future. He joins Jaguar as test driver, and will only race occasionally next year. Tomas Enge occupied the #2 seat throughout the season. The Czech was given his greatest opportunity to live up to the promise he showed when he stormed into F3000 with Auto Sport Racing midway through 1998. Equal sixth in the championship was his reward, but he could have done better. Fifth in the opening round, he qualified third twice but failed to finish and then failed to qualify at Monaco after crashing at Casino. He was fifth at Magny-Cours and sixth at Spa, but in between those races he finally took his first win at Hockenheim. In the rain he came in to gamble for slicks, giving the lead to Scheckter. The gamble payed off with just a lap to go, storming past the South African on the pit-straight. Enge's spectacular driving style saw the back end of his Lola sliding all over the place, the team perhaps suffering as a result of his need for a different car set-up. McLaren made the decision to pull out at the end of the year, though initially planned to continue after David Brown left for Jordan Grand Prix.

D2 Playlife Super Nova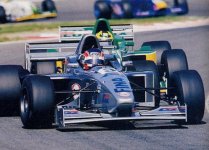 David Sears' main team once again proved itself to be one of the most professional in F3000, clinching the teams championship and narrowly missing out on the drivers title. Super Nova made the decision to hire

Nicolas Minassian for the 2000 season. The Frenchman had struggled in 1998 with McLaren, but his 1999 season with Kid Jensen Racing demonstrated his former British F3 talent again and a move to an established team should have seen him develop further. Indeed he did, winning the Imola opener. Second in round three at Barcelona, a number of indifferent showings followed and Junqueira looked to be running away with the title after three consecutive wins. Junqueira's season then slumped, while Minassian took the Magny-Cours and A1-Ring rounds to return to championship contention. Indeed, heading into the penultimate round, Minassian and Junqueira were equal on points and distribution of points finishes. Junqueira took the advantage in Hungary by winning, and Minassian faced an impossible task at the Spa finale. Despite a strong drive to close up to second-placed Goossens, he had no chance to overhaul leader Alonso for the win and lost the title by just three points. Minassian joins Junqueira at the Chip Ganassi Racing team in Champ Cars next year. David Saelens was retained by Super Nova after impressing on occasion in his rookie 1999 season. The Belgian certainly improved this year, taking pole at Nurburgring and Monaco and finishing three times on the podium. His races were his weak point, throwing away his pole at the Nurburgring by causing the mayhem in the first corner and colliding with Sebastien Bourdais at the start at Monaco. The collisions, following on from one in the opening Imola round, made Saelens and Bourdais firm enemies. On other tracks he made mistakes and was often overtaken, as at Barcelona and Spa. Nevertheless, it should be remembered that both Junqueira and Minassian were both in their third seasons when real success came their way, and Saelens clearly has speed.

Petrobras Junior Team
The second string team of David Sears, originally the Den Bla Avis outfit formed around Jason Watt, the Petrobras Junior team was once again the Williams affiliated F3000 team. While taking its first drivers title, the squad was only beaten to the team championship by Super Nova.

Jaime Melo Jr was the replacement for Max Wilson, the SudAm F3 runner-up making a strong debut at Imola. There he qualified and finished fourth, just two places behind Junqueira. He did a respectable job in qualifying at Barcelona and the Nurburgring, taking a point for sixth at the latter race, while he finished a strong fifth at the A1-Ring. The other races were less successful, with failures to qualify at Monaco and Hungary, a qualifying crash ending his chances in Budapest. Nevertheless, the Brazilian, perhaps suffering from a team concentrating on Junqueira's championship challenge, demonstrated his talent on occasion. He will want to build on his rookie season in 2001 after signing for Durango. Petrobras Junior's lead driver Bruno Junqueira (pictured) benefited from continuity after his impressive 1999 season with the squad. Beaten by Minassian at Imola and a lacklustre fifth at Silverstone, Junqueira soon made amends by taking a hat-trick of wins at Barcelona, Nurburgring and Monaco. While his apparent title rivals Minassian and Webber lacked consistency, Junqueira looked set to dominate the season after pulling out such a large points lead. In truth, he had the best luck of the field at this stage. His win at Barcelona came at the expense of Enrique Bernoldi who was comfortably leading when he encountered a tyre problem. At the Nurburgring Bernoldi was once again robbed of the lead, while Junqueira subsequently survived a high speed spin in the rain in avoidance of Tomas Enge, and was lucky not to run into the spinning Andrea Piccini later on, while heading for a strategic win. At Monaco he was gifted the lead when Saelens and Bourdais collided. Nevertheless he was consistently at the front and did all he needed when he had the lead. There then followed a mid-season slump that brought the championship alive, no points being scored at Magny-Cours, the A1-Ring and Hockenheim. Luckily for him, Minassian failed to score at Hockenheim as well. Junqueira later attributed his downturn in form to being preoccupied with finding a drive for 2001. He regrouped for the penultimate Hungaroring round which he dominated and clinched the championship at Spa when Minassian was unable to win, the only way the Frenchman could take the title. Junqueira now joins Minassian racing with Chip Ganassi in Champ Cars, following in the footsteps of Juan-Pablo Montoya and seemingly cementing the unofficial relationship between Sears and Ganassi.

Team Astromega
Dealt a tragic blow when Gonzalo Rodriguez was killed in 1999, for 2000 the Belgian team signed another extraordinary talent, the Spanish youngster

Fernando Alonso. Just 18 when the season began, Alonso had already earned a good reputation in the Open Movistar by Nissan series in 1999, where he won the title in his first season of car racing. With Astromega, he improved throughout the year and impressed many with his aggressive style. Even when at the back at Barcelona, he would not just trail around and give up but pushed hard all the time. In only his second race, at Silverstone, Alonso qualified sixth, only to be penalised and disqualified for a minor infringement regarding his Lola's engine mounting bolts. Some unremarkable races followed, but he was a strong eighth at his first visit to Monaco and then qualified third at Magny-Cours, only to retire from the race with a car problem. At the A1-Ring he held off champion elect Junqueira for sixth, his first point, while he also qualified sixth at Hockenheim before spinning out in the wet. He came of age in the last two races, finishing close behind winner Junqueira at Budapest and then dominating the race at Spa, the ultimate drivers circuit, after taking pole. Signed as a Minardi test driver for 2000, his future looks bright, and at the time of writing likely to be with Minardi for 2001 while under contract to Flavio Briatore. He had also been approached by Ferrari, with earlier rumours suggesting he would race for Prost. In contrast to Alonso, Fabrice Walfisch had a dire time with Astromega until he was dropped mid-season. The Frenchman, after an uninspired 1998 with Nordic, looked capable of producing the goods on occasion in 1999 with Draco, taking pole and leading at Hungary and taking another front-row at Spa. For 2000, Astromega chose him for his experience to partner the unproven Alonso. Sadly his season was a disaster. Sixth in qualifying at Imola, where he also went well last year, he retired from the race. His best qualifying position thereafter was eighth. At Silverstone he spun out in the rain as the field followed the safety car. At Barcelona, he destroyed his car on his first qualifying lap and therefore missed the race. Then came the Nurburgring... On wet tyres on a track saturated by rain, he failed to see the slick-shod Tomas Enge ahead of him in the spray and hit him from behind, launching the sky-blue Astromega car into the air before it came back down to land, thankfully the right way up. Results failed to materialise and Walfisch blamed his chassis, claiming there was a problem with it. At the A1-Ring tests the team employed Dino Morelli to try the car. The Ulsterman lapped close to Alonso's pace and said the car was fine, but the team conceded to Walfisch's demands and sourced another Lola from the Huntingdon company, his 1999 Draco chassis. It failed to help him in its debut at Magny-Cours where he had a number of lurid offs. The team thereafter parted company with Walfisch, telling him to seek employment elsewhere. His replacement was the Belgian veteran Marc Goossens, who won two races for the team in 1996 before his Formula Nippon foray. Last season with Arden was not impressive for Marc, save for a third place (subsequently disqualified) in Hungary. His return was initially unspectacular, qualifying 14th twice and then 12th. But at the final Spa round, a late lap in qualifying left him second on the grid beside team-mate Alonso. In the race he kept second throughout, unable to match Alonso's incredible pace after challenging him on lap 1 into Eau Rouge. It was a perfect end to a difficult year for Astromega. For next season they have signed another special talent, German F3 champion Giorgio Pantano, who will partner Ananda Mikola.

Gauloises Formula (Prost Junior)
The Gauloises Formula squad suffered mixed fortunes in 2000 after winning a race last year with Stephane Sarrazin. Once again

Andre Couto lined up for the team. Bizarrely, the Macanese, a former Italian F3 runner-up, had an absolutely dismal season. His best qualifying position was 16th at Hockenheim, while his only points finish also came in Germany, at the Nurburgring. In the lottery of the rain-affected race he took third, but was unable to celebrate the podium, only being given the position after Andreas Scheld was disqualified from second. Other than that he generally looked uninspired and was totally overshadowed by his rookie team-mate. It was a far cry from the promise he showed in his debut '98 season with Prema. At the end of the year, Couto complained that his relationship with the team had collapsed over the course of the season. He partly made up for his year by winning the prestigious Macau F3 GP in the former Portuguese enclave, a popular win against the cream of F3. He now looks set to race in either Champ Cars (with Dale Coyne's team) or Formula Nippon. Couto's team-mate was the reigning French F3 champion Sebastien Bourdais, the bespectacled driver making an excellent impression. Outpacing Couto from the start of the season, Bourdais began to score significant results after just three races. At the rain-affected Nurburgring he took fourth, while he followed it up with second on the grid at Monaco. Unfortunately his race ended at the first corner when a slow-starting Saelens refused to concede the lead (pictured). It wasn't the only incident he had with the Belgian. He then went to his home circuit of Magny-Cours and was dominant in qualifying to take his first pole, although in the race he could not match Minassian. Some average performances followed, but at Hockenheim he qualified fourth, only to crash the car on the way to the grid. Undoubtedly one to watch for the future like rising French F3 star and Marlboro Masters and Pau GP winner Jonathan Cochet, both proving the French F3 series should not be ignored. Bourdais was even linked by some as an outside bet for a Prost F1 seat in 2001. For 2001 the Prost junior team reverts to the name "Prostar" and shares Prost's PSN sponsorship, which sadly means Bourdais has been cruelly stripped of a drive that seemed a certainty. Nicolas Filiberti is expected to race alongside either Luis Diaz, Jonathan Cochet or Christian Murchison.

Kid Jensen Racing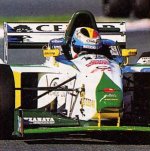 After just one season in Formula Opel, Kid Jensen Racing made a highly impressive debut F3000 season in 1999, winning with Nicolas Minassian at Silverstone and also seeing some impressive performances for rookie

Andrea Piccini. The Italian was retained for 2000, but he never really impressed, qualifying in the 20s too often. Bad luck struck him early in the season - at Silverstone he failed to see Kevin McGarrity slowing to avoid a crashing Tomas Enge in the wet qualifying, leaving him in non-qualification. At the following Barcelona round he suffered the same fate, ramming Mario Haberfeld along with Minassian. His only points of the season came at Hockenheim, at a time when the team were desperate to score to avoid relegation. Ultimately those three points for fourth were not enough, something the team recognised at the time. Piccini was paired with Belgian Bas Leinders (pictured) who impressed on occasion in 1999 with Witmeur KTR. The 1998 German F3 champion generally went better than his team-mate but never did much of interest. When Piccini was scoring points at Hockenheim, Leinders was missing the race due to crashing in qualifying. His end of season saw a slight upturn in form, starting and finishing seventh at Hungary and spinning out of his home Spa race when fighting for sixth. A disastrous second season for Kid Jensen Racing saw the team facing relegation in 2001, as the lowest three teams in the championship did not automatically secure an entry. Fortunately they managed to secure one of the three available entries and will return after all, with new drivers the team stresses.

Red Bull Junior
Helmut Marko's RSM Marko squad were no strangers to success before returning to F3000 as Red Bull Junior in 1999. Jorg Muller won the title in 1996, while Juan Pablo Montoya almost matched the achievement the following year. The team were not expecting a season like 1999, where they ended the season failing to secure an entry for 2000. Ultimately they could only continue to compete by purchasing the F3000 arm of ORECA which had decided to quit the series. They decided to keep faith in their original driver pairing, the only team to see no driver changes over the winter. Although the results do not suggest so, 2000 was a much better season.

Enrique Bernoldi (pictured) in particular impressed early in the year. The former British F3 title contender qualified in the top 6 for the first five races, a level of consistency matched only by Junqueira. Sadly his luck was terrible. Robbed of fourth by gearbox troubles at Imola, he then lost a certain victory at Barcelona with tyre problems and spun out of the lead at the Nurburgring when his rear suspension collapsed exiting the Veedol chicane. His season suffered from a few poor races in the second half, and he emerged with just a fourth and two sixth places to his name. In reality he deserved to be fighting for third in the championship with Webber rather than languishing in equal 15th place. Bernoldi looked set to race for Red Bull in 2001, but he lost his F1 chance at Sauber to Kimi Raikkonen, much to Red Bull's disapproval, and both Red Bull Junior drives have since been taken, by newcomers Antonio Garcia and Patrick Friesacher. He tested for Prost GP, but that move was also thwarted with the slow Gaston Mazzacane taking the drive. Ricardo Mauricio had proved uninspiring in his first F3000 season. This year the diminutive Brazilian improved to an extent, but was no match for Bernoldi apart from in the final two races. He generally qualified just outside the top 10, but he suffered an incredible run of seven consecutive retirements in the first seven races. Only at the end of the season did the former British F3 driver convince. He outqualified Bernoldi in Hungary and Belgium, taking a best-ever third place at Budapest after a stunning start. Ultimately though, questions remain. In Budapest he seemed content to settle for third and totally botched a restart. Absent from winter testing, Mauricio's future looks to be in jeopardy.

Nordic Racing
Nordic Racing had their best season for some time this year, fielding the only all-British driver line-up in F3000.

Kevin McGarrity was retained by the team after a difficult first full season in 1999. The Northern Irishman has always suffered from lack of funds, but this year had stability and didn't have to worry so much about whether he'd be at the next race. Last year he complained he was never able to qualify well due to the "do-or-die" single session format, but with extra time to perfect set-up this year he failed to convince. The only exception was Monaco, where driver talent can make up for a difficult car - he took a strong fourth, benefitting from retirements ahead. Too often he qualified down towards the 20s, and in Austria and Belgium he didn't qualify at all. The loss of sponsor Mobil.com means he may be forced to quit F3000 next year. McGarrity's fortunes contrasted strongly with those of team-mate Justin Wilson (pictured). The lanky Brit quietly impressed with Astromega in 1999, the drive his prize for winning the '98 Formula Palmer Audi title. In 2000 he gained a growing reputation and convinced all year with his speed and commitment, ultimately taking fifth in the final standings. Qualifying was his weakest point in half of the races, but he had the ability of moving up the order in the races. A second in Austria, third at Silverstone and three fifths were his reward. He made it onto the front row at the Hungaroring, but like many others made a poor start on the dirty side of the track. Staying for next year along with new signing Tomas Enge, Wilson could easily be a title contender. Sadly his talent has been overlooked by the F1 fraternity, although he aims for a testing deal by 2002. Both Nordic cars will race in Coca-Cola colours next year after the firm extended its deal, the outfit becoming "Coca-Cola Nordic Racing".

World Racing Team (WRT)
WRT, the F3000 squad of team Rafanelli, has not convinced in its two years of F3000. Its cars spent all season with minimal sponsorship and only twice qualified inside the top 20. It was no surprise when Gabriele Rafanelli announced mid-season that the team would probably quit at the end of the year. It was an uphill struggle and the team failed to secure an entry for 2001, the only one to score no points in 2000. Deciding against applying for one of the three available entries, the team disbanded to expand their sportscar activities.

Hidetoshi Mitsusada was selected as the driver of the #19 car. The Formula Nippon regular had a brief F3000 stint with Nordic in 1998, but this year he aimed to break into Europe properly. He was announced as the Benetton test driver for the season, but the role never materialised after his dismal F3000 performances. Three non-qualifications were the sum total of his efforts, and the team dropped him for the Nurburgring. In his place Marc Hynes (pictured) made a welcome F3000 debut. Although Jenson Button went on to F1 stardom and Luciano Burti was nurtured by Jaguar, the man who beat them both to the British F3 title was inexplicably ignored by the fickle motor racing world. His initial reward for his season with Manor Motorsport was a shoot-out for a seat at Arden in F3000 Italia, but he lost out to Warren Hughes despite being uncomfortable in the car due to his height. Hynes' deal with WRT was equally unsatisfactory, as he was racing only on a race-by-race basis providing he had the money. After three races he left the scene as he didn't. At the Nurburgring he unsurprisingly failed to qualify having not tested the car, but at Monaco and Magny-Cours he out-qualified his team-mate. He ran strongly at Monaco until a heavy crash, but retired in an early incident in the other French race. Dino Morelli was the next to compete in the car. The Ulsterman deserves a break in F3000, having had his 1997 season ended by a severe accident and only sporadic drives since. Like Hynes, the former F3000 Italia race-winner had a race-by-race deal. At the A1-Ring he didn't qualify with brake problems, but at Hockenheim he started 10th, the best position of the season for the team. Sadly he retired when fuel leaked into the cockpit, leaving him with minor petrol burns. Soheil Ayari replaced Morelli at Budapest, having tried to do so at Hockenheim. The fast but accident-prone Frenchman, a two-time winner, had fallen out with his Coloni team. His disastrous fourth season failed to improve, a number of spins in his two races assisting him to midfield finishes. In the second car the Indonesian driver Ananda Mikola raced for the whole season. To his credit, Mikola qualified in all but three races, but was only ever capable of trailing around at the back of the field. His season comprehensively failed to live up to expectations. In his F3000 Italia campaign of 1999 with Edenbridge, he was a front-runner and even won on the road at Enna before disqualification, but in hindsight maybe he was helped by track knowledge from his years in Italian F3. Then again, maybe WRT's set-up choices were so poor Mikola never stood a chance.

DAMS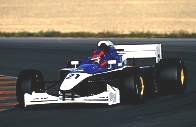 Once again DAMS failed to live up to anything like their early form which once established them as F3000's most successful team. By the end of the year rumours in France suggested the squad was up for sale, but team boss Jean-Paul Driot denied them.

Franck Montagny (pictured) was to many people the most impressive rookie of 1999. This year he remained with DAMS for a second season, but the continuity assisted him to few results. He generally qualified in or close to the top 10, but his only race results were somewhat inherited sixth places at Barcelona and Monaco and a competitive fourth at Magny-Cours. He also suffered a heavy collision with Justin Wilson at the Nurburgring, both drivers fortunate to escape injury, and then had another frightening crash at Spa that saw his car pointing at the sky. By the end of the year Montagny was looking to America for his future. The season of rookie Kristian Kolby gave further evidence that DAMS are in a slump. The Dane impressed in his two British F3 seasons but largely struggled in his first year of F3000. A 10th in qualifying at Silverstone, a track he was familiar with, showed his potential, but his best qualifying performance otherwise was 17th. Four consecutive non-qualifications were demoralising, but Kolby bounced back with a fifth place at Hockenheim, by far his best result of the season. Both drivers also competed in the DAMS Cadillac at Le Mans, but Kolby's car retired and burned out before his stint began. Perhaps DAMS were focusing on their sportscar challenge to the detriment of their F3000 outfit. Whatever, something needs to change at the operation.

Arden Team Russia
Arden, once again renamed in deference to Russian sponsors, had its most impressive season since entering F3000 (discounting Kurt Mollekens' 1998 efforts in the joint Arden/KTR team). On the driver front this was entirely down to their new signing

Darren Manning. The reigning All-Japan F3 champion and winner of the end-of-season Macau and Korea races in 1999 had a mixed season but ended up eighth overall in the standings, overshadowed by Mark Webber and Fernando Alonso in the "rookie of the year" stakes. Manning was inconsistent in qualifying, being in the 20s one race and in the top 10 in the next. Far and away his most impressive race of the season was Silverstone, a circuit he excelled at in British F3. He took pole but chose the wrong set-up for the race, dropping to second after surviving a collision (pictured) with race winner Mark Webber. He also impressed at the A1-Ring, taking third position. Elsewhere, however much he impressed in races, his qualifying performances let him down. Manning joined the team's F3000 Italia outfit once the International F3000 season ended, to help with Warren Hughes' title battle and the Arden's assault on the Teams championship. He duly took his first F3000 win on his debut at Enna-Pergusa, and helped secure the Teams title at Misano. Once again Viktor Maslov was retained by Arden for the sponsorship he brings. The Russian has proven to be out of his depth in his second season of F3000, also failing to impress in his full season of F3000 Italia with Arden which he ran concurrently. In the International series he only qualified for half the races and was no more than a backmarker. Arden earned a second entry for the 2001 series after winning the F3000 Italia title, but Christian Horner's squad have turned down this opportunity. Manning and Maslov have been re-signed by the team.

European Arrows F3000 Team
Arrows made a welcome return to involvement in F3000 after the Portman Arrows team folded early in 1999. This year they teamed up with European Formula, the team that struggled in 1999 with Jamie Davies and Oliver Gavin, which continued after the European Edenbridge partnership broke down. European Racing as part of the deal were responsible for an Arrows 2-seater F1 car used for promotional events. The F3000 team's lead driver was

Mark Webber (pictured). The Australian had been left without a drive in 1999 after competing in the FIA GT series in 1998 with Mercedes. He made the news nevertheless with two horrific flips at Le Mans. For 2000, he joined European Arrows for his first single seater campaign since his British F3 season in 1997. Webber impressed instantly, taking third place in his debut at Imola. He followed it with a win in the wet at Silverstone, and looked set to be Junqueira's main challenger for the title. Unfortunately a four-race mid-season lull of no points ended his challenge, and he only scored points again in rounds 7 and 8. He clinched third in the championship, but Fernando Alonso overshadowed him as the most impressive rookie at the tail end of the year. Nevertheless, a 2nd, two top 3's and three 7th places in qualifying showed he was consistently quick. Expected to join Super Nova for 2001, Webber is a definite title favourite. Team-mate Christijan Albers had a less successful time, the German F3 champion struggling to adapt to F3000 like previous F3 graduates. The Dutchman showed flashes of form, most notably in races, but was often nowhere in qualifying. A strong race at Silverstone ended in retirement from a points finish when he spun out in the rain, while his best qualifying performance of the season was at the A1-Ring where he started sixth. Another season should give him the chance to develop; remember, Nicolas Minassian struggled throughout his debut season. However, Albers is also looking for a drive in Formula Nippon. The European Arrows team looked poised to disintegrate in the middle of the year. Mark Webber was announced as Arrows' test driver when he joined the F3000 squad, but refused to sign a contract with the team which would have given Arrows an option on his services for 2001. By the end of the year he had joined Benetton instead. At the time of writing it looks as though European Formula have lost Arrows' support for 2001.

Witmeur Team KTR
The all-Belgian squad headed by former single-seater drivers Kurt Mollekens and Pascal Witmeur had a difficult second season under their new name. Showing flashes of form in 1999, this year they had only one car which was remotely competitive.

Jeffrey van Hooydonk (pictured) was the driver, one of a few to benefit from team continuity into the new season. The Belgian failed to make the most of it, only impressing in 3 of the 10 races. At Barcelona he qualified seventh and ran home fourth for the team's only points finish of the season. He was a surprise pole-sitter at the A1-Ring, timing his lap to perfection as the wet track continued to dry. He then jumped the start, destroying his race. He took fifth in qualifying at the following Hockenheim round but retired in a collision. Team-mate Yves Olivier had an even less successful time. The Belgian's best qualifying position was 21st at Hockenheim and he failed to qualify four times. His best race result was a seventh in the Nurburgring lottery. Olivier has since decided to join the DTM field. Witmeur KTR also linked up with German F3 team JB Motorsport to help promote Belgian talent. JB Motorsport had mixed results with Nicolas Stelandre and Val Hillebrand. Although Witmeur KTR failed to secure an automatic entry for 2001 after their dismal year, they will fight on as Team KTR after successfully applying for an entry, helped by the lack of interest from Arden and new teams.

Fortec Motorsport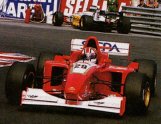 Richard Dutton's squad had high hopes for the 2000 season after a difficult first year with Norberto Fontana and Andrej Pavicevic. The reason for optimism was new signing

Mario Haberfeld's pace in pre-season testing, which suggested he'd go from non-qualification territory with McLaren in '99 to championship challenger. Unfortunately the Brazilian never came close, failing to score any points in a season which bearly got underway before injury set him back. In qualifying at Barcelona Haberfeld spun off at the quick final corner. Instead of slamming on the brakes, he let the car roll back onto the track. Terrifyingly, through the dust appeared Andrea Piccini and then Nicolas Minassian, both ramming the side of the Lola. When Haberfeld's car came to rest back in the gravel trap, it was clear he was injured and trapped in the car. Initial reports suggested it was a broken leg, but thankfully it was only a bad cut where Piccini's nose had holed the tub. Haberfeld nevertheless missed two races. Prior to the accident, he qualified 10th and 14th at Imola and Silverstone, a series of offs at the San Marino circuit suggesting his car was far from well set-up. His comeback at Magny-Cours was impressive, taking 5th in qualifying, but he blew the start. From then-on he qualified in the low teens until he took 11th on the grid at Spa, where he collided with Darren Manning exiting the Bus Stop. An 8th place at the A1-Ring was the highlight of a disappointing season. Jamie Davies subbed for Haberfeld, his Nurburgring debut ending in disappointment after he was caught up in an incident. But at Monaco (above right) he brought the team's best ever F3000 result, a strong second place behind Bruno Junqueira. He remained with the team afterwards in a supporting role, but returned to the seat at Spa when Haberfeld's team-mate was taken ill, only for a car problem to hamper his progress. Davies decided to look to the USA for his next move, but it appears his efforts have not earned him anything so far. Andreas Scheld was Haberfeld's team-mate for the year, the German touring car graduate not having the credentials to suggest he could compete at this level. Generally this proved to be the case, although he did surprisingly well to qualify for six races. He did even better at the Nurburgring. In the wet, he and the team timed his pitstop perfectly, leaving him leading the race. He relinquished P1 to Bruno Junqueira, but from then onwards he drove a mature race, taking a well-deserved second place on the podium. Sadly he was robbed of the position when Coloni, whose driver Fabrizio Gollin had taken third on the road, protested over some tape which was left on the front-wing endplates. It gave no performance advantage whatsoever, but Gollin was promoted to second, leaving Scheld to end the season pointless.

Coloni F3000
Once again the omnipresent Italian squad had a forgettable year, despite signing two-time race winner

Soheil Ayari. The Frenchman planned to compete in a unique double, taking in the F3000 series and an Indy Lights campaign with Brian Stewart Racing. When results failed to materialise in either formula, Ayari decided the constant travelling was holding back his progress and concentrated on F3000. Unfortunately he proved as fast but erratic as ever, qualifying and finishing sixth at Silverstone, but thereafter having a string of retirements. He parted with the team ahead of round 8, publicly slating them for not allowing him and his engineer to make their own decisions on set-up. He went on to join WRT and also raced in Italian F3000 and the SportsRacing World Cup with Durango. Fabrice Walfisch, sacked by Astromega, replaced his fellow Frenchman at the team, but didn't achieve much in his two-race stint. The second Coloni car was occupied by F3000 veteran Fabrizio Gollin. Never convincing in the formula, the Italian has had flashes of form which saw him move out of the midfield. This season was much the same; a sixth place in the opening race, and an inherited second place in the lottery of the Nurburgring. Otherwise he was to be found in the midfield or even in non-qualification on two occasions.
FIA F3000 2000: Final Drivers Championship Positions

Pos

Driver

Team

Points

1

Bruno Junqueira (BR)

Petrobras Junior

48

2

Nicolas Minassian (F)

Super Nova

45

3

Mark Webber (AUS)

European Formula (Arrows junior)

21

4

Fernando Alonso (E)

Astromega

17

5

Justin Wilson (GB)

Nordic

16

6

Tomas Enge (CZ)

mySAP.com Team (McLaren junior)

15

=

David Saelens (B)

Super Nova

15

8

Darren Manning (GB)

Arden Team Russia

10

9

Sebastien Bourdais (F)

Gauloises Formula (Prost junior)

9

10

Fabrizio Gollin (I)

Coloni

7

11

Jamie Davies (GB)

Fortec

6

=

Jaime Melo Jr. (BR)

Petrobras Junior

6

=

Tomas Scheckter (ZA)

mySAP.com Team (McLaren junior)

6

=

Marc Goossens (B)

Astromega

6

15

Franck Montagny (F)

DAMS

5

=

Enrique Bernoldi (BR)

Red Bull Junior

5

17

Andre Couto (MAC)

Gauloises Formula (Prost junior)

4

=

Ricardo Mauricio (BR)

Red Bull Junior

4

19

Kevin McGarrity (GB)

Nordic

3

=

Stephane Sarrazin (F)

mySAP.com Team (McLaren junior)

3

=

Jeffrey van Hooydonk (B)

Witmeur KTR

3

=

Andrea Piccini (I)

Kid Jensen Racing

3

23

Kristian Kolby (DK)

DAMS

2

24

Soheil Ayari (F)

Coloni / WRT

1
FIA F3000 2000: Final Teams Championship Positions

Pos

Team

Points

1

Super Nova

60

2

Petrobras Junior

54

3

mySAP.com Team (McLaren Junior)

24

4

Astromega

23

5

European Arrows (Arrows Junior)

21

6

Nordic

19

7

Gauloises Formula (Prost Junior)

13

8

Arden Team Russia

10

9

Red Bull Junior

8

=

Coloni

8

11

DAMS

7

12

Fortec Motorsport

6

13

Kid Jensen Racing

3

=

Witmeur KTR

3

15

WRT

0

(Scoring: 10-6-4-3-2-1)
FIA F3000 2000: Calendar and Race Winners

Round

Circuit

Date

Winner

1

Imola (I)

8th April

Nicolas Minassian (F)

2

Silverstone (GB)

22nd April

Mark Webber (AUS)

3

Barcelona (E)

6th May

Bruno Junqueira (BR)

4

Nurburgring (D)

20th May

Bruno Junqueira (BR)

5

Monaco (MC)

3rd June

Bruno Junqueira (BR)

6

Magny-Cours (F)

1st July

Nicolas Minassian (F)

7

A1-Ring (A)

15th July

Nicolas Minassian (F)

8

Hockenheim (D)

29th July

Tomas Enge (CZ)

9

Hungaroring (H)

12th August

Bruno Junqueira (BR)

10

Spa (B)

26th August

Fernando Alonso (E)
Text © Unofficial F3000 Information, December 2000/January 2001.
Copyright for photos is held by their respective owners; photos are reproduced here for non-profit use.